FAMILY Values Fridays - Spotlight on Linda Hafezizadeh … Southern California's Very Own Fairy Godmother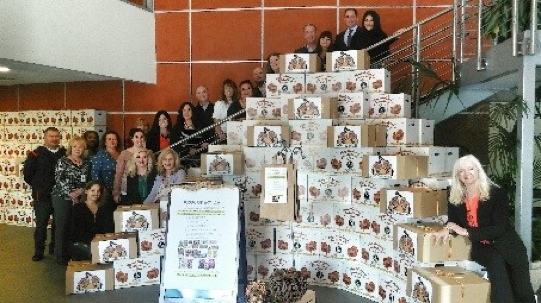 It's no secret that giving back is deeply ingrained in SGWS' culture. In Cerritos, employees actively support their communities in the Southern California area. Linda Hafezizadeh, Senior Director of Customer Service and Accounts Receivable, drives much of this activity. Linda guides the Southern California area branches in multiple endeavors every year and is constantly searching for new ways to help. She's been likened to SGWS Southern California's Fairy Godmother.
During her years at SGWS, Linda has made it her mission to give back to as many charitable organizations and people in need as possible. All while handling day-to-day business and meetings, departmental activities, and her family. Whether collecting donations to make a beautiful gift basket to raffle, boxing up food donations, or completing a marathon, Linda is always front and center at each event. And when it comes to giving back, Linda's generosity is contagious and elicits volunteers and participants to outdo themselves year after year.
Gianna Spiegel, Customer Service Analyst, said, "Linda is the true embodiment of the giving spirit."
Over the years, Linda has partnered with SGWS, generous suppliers, and tireless employees to provide substantial donations that make a major difference in the Southern California community. Some charitable events that Linda has spearheaded for the branch include:
Box of Love – In 2016, Cerritos collected more than 325 boxes of grocery items to donate to families and organizations in need for Thanksgiving meals. SGWS also chips in a $10 grocery store gift card to help families buy perishable goods, as well.
Angel Tree - Last year's efforts resulted in 125 kids receiving a Christmas/Hanukkah gift.
"Clothes the Deal" Clothing Drive – More than 10 wardrobe boxes of clothing and 3 bins of shoes and accessories were collected last year to help low-income adults return to the workforce with professional attire.
We'd like to send a huge shout-out and thanks to Linda for all your efforts in your community!