Class earns 100% passing rate!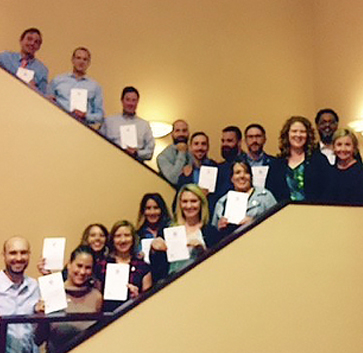 Congratulations are in order for SGWS's wine education team! The team just completed its first ever Tri-State Court of Master Sommeliers (CMS) Introductory Course in Louisville. Even better, all 39 participants, which hailed from Kentucky, Indiana and Ohio, passed the exam with a 100% success rate!
SGWS now provides 12 CMS Intro courses a year, exclusively for SGWS personnel. With a continued interest from our employees and our mission to have the best trained and talented team, SGWS plans continued growth in our wine education programs. Kudos, again, to all of our Tri-State participants!
Kentucky
Sarah Gillum
Stephen Potter
Kendall Farris
Charles Friedrich
David LaBore
Robert Cross
Annie Cummins
Natalie Shore
James Webb
Michael Adams
Jenny Drake
Ellen Jones
Adriane Fuller
Casey Churchill
Sheena Robinson
Katie Parrish
Catherine Johnson
Kathryn Carter
Jeff Hellmann
Connor Asay
Jordan Spence
Indiana
Elizabeth Baker
Jesse Barber
Adam Camacho
Kyle Heron
Jason Hill
Thomas Holliman
Kristen Howells
Jennifer Huff
Brad Kucharczyk
Jennifer Small
Nathen Swetalla
Ohio
Lee Simms
Jeff Weber
Travis Castell
Deborah Ludwig
Constance Begue
Carolyn Throne
John Needham