FAMILY Values Fridays - Bridget Albert Named Top 100 Trailblazing Women in the Hospitality Industry
Bringing Women's History Month to a close…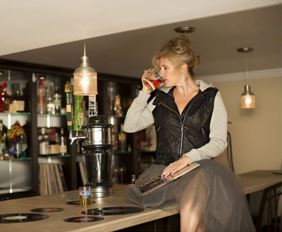 Bridget Albert, SGWS National Director of Education, Beam Suntory
"You can't fake hard work. When you are all in, it is important to be yourself without compromise.":
Bridget Albert, Southern Glazer's National Director of Education for Beam Suntory and Mixologist, has been featured as one of 100 trailblazing women in the hospitality industry. Sharing their words of wisdom in an ongoing Tastemaker Series that gives back to the community, this initiative spotlights leaders and their hard-won mottos that drive success in business and life.
"We interviewed more than 100 leaders whose creativity and professionalism motivate us every day," says Hanna Lee, President and Founder, Hanna Lee Communications, Inc., an award-winning marketing agency specialized in food, drinks and travel public relations. "The goal of our Tastemaker Series is to connect these influencers with the national media, since they are experts in their fields and deserve the spotlight. I meet inspiring women every day, both here in the U.S. and internationally when I travel. This initiative is a great way to celebrate these exceptional women from around the globe."
The luminaries in this Tastemaker Series represent bartending & bar ownership; book & magazine publishing; brand promotion; nonprofits & associations; retail; marketing & sales; TV, radio & film production; culinary festivals & event production; architecture, art & design; photography; travel; wine and fitness.
For the full feature, visit http://www.hannaleecommunications.com/tastemakers-women/.